Certified PGA Professional Craig Davis is Mount Gambier Golf Clubs resident professional. He has been conducting individual and group coaching sessions to people of all ages and ability for over a decade. Keeping in with the core values of simple bit effective Craig offers a suitable solution to all golf related problems with the ultimate goal of giving the player some key points to remember for their next golf ouiting Craig has coached players of all levels, from tour professionals to 3 and 4 year old juniors and beginners to regular golfers. He worked with paragolfers for over 3 years in his previous role whilst also providing sessions for people suffering from major brain trauma though Flinders university's re entry program. He cant wait to see what he can do to assist your game.
Craig Davis
Certified PGA Professional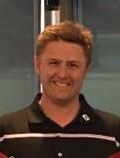 Growing up in Mount Gambier, Craig is a local to the area. At the age of 18 he moved away to begin his journey as a PGA touring professional starting with a 12 month stint on scholarship at the Australian Institute of Sport. Following from this Craig moved up to the Sunshine coast where he worked as teaching professional at Twin Waters golf club for over 3 years and then for a further 6 years as the head teaching professional at Adelaide Shores Golf Academy. He has now returned to Mt Gambier.
Mount Gambier Golf Club, 235 Attamurra Road, Mount Gambier
(08) 8725 1619
Wednesday

Thursday

Friday

Saturday

Sunday

9:00am - 5:00pm

9:00am - 5:00pm

9:00am - 5:00pm

10:00am - 2:00pm

10:00am - 3:00pm